How can you enhance text for a biochemistry exam?
Hello everyone!
Short version
Is there a way (maybe a trick) to enhance text in Hitfilm 4 Pro that was shot with a mobile camera? For a quick look, the youtube video below shows the two footages from the same event. I would like to be able to read some parts of the text from this video, but the resolution of the two footages are just too low to read it. Inside Hitfilm 4 Pro, I tried some colour correction tools, but I am still a beginner. So I thought, maybe you guys have a great idea how to read it?!
Longer version
I study Chemistry in Groningen (the Netherlands) and yesterday, a teacher challenged the class to try to make a picture of the biochemistry exam he was about to show on the projector. The teacher scrolled down really fast through the exam on Word. A friend and I recorded the screen so we could look it back, but the resolution of our mobile phones was just too low to read it. If you put it inside Hitfilm 4 Pro and go frame by frame, the diagrams and drawing are clearly visible, but many phrases are not. I tried to enhance the footage a bit, so I could read it more easily. For example, it helped to adjust contrast and brightness, to make the video into black and white (and invert the colours). I figured out some questions of the exam, but many are just not readable yet. I am still learning the colour correction tools and there may be a way to read it, but I do not know about it yet. I uploaded the two footages to youtube in one video, displayed below, and uploaded the original files to OneDrive. Maybe one of the other Hitfilm users has a solution?  
Is this considered as... cheating?
Since the teacher himself asked us to record it, I do not consider this as cheating, but more as a.... challenge.  >;p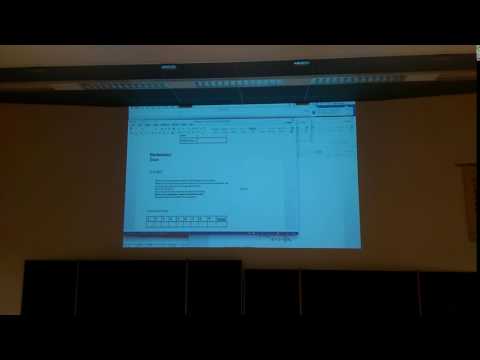 The 2  full videos can be downloaded here.
In the video, the part that is most interesting is the part where the document is scrolled really fast, the begin and end are clearly visible. (there are parts that are impossible to read due to the speed of scrolling, but maybe we could get some questions out of there).
Above image is 1 frame, but the text is not readable.
Any help would be really appreciated!
Comments