'A Long Walk In Mexico' - Newest Atomic Project (Trailer Released)
Hey guys!
A handful of weeks ago I posted here about a project I was working on in California for a company. Now that our connections with that company have somewhat moved on, the project has become more of our own material and is something we've expanded and rebranded into something distinctly 'Atomic'.
That project, announced officially yesterday via our
Facebook Fan Page
, is 'A Long Walk In Mexico'.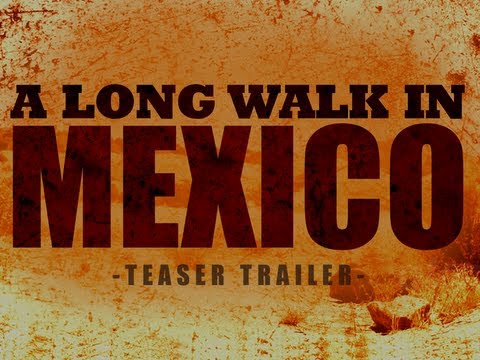 As the project is of a decently-ambitious length (25-45 minutes) and was developed as a spec sort of TV pilot, it's something we're still working at. And with our funding having parted ways and rights back in our own hands, it's something we're hitting hard to promote and garner investor interest in to complete. We're really happy with the results and look of what majority of production we've already completed, and excited to finish it out.
Accordingly, we've released the above trailer and will be dispersing a handful of graphic media and promotional materials over the course of the coming weeks. With interest in programming from small studios to American television network already, this is an action-comedy piece we're incredibly enthusiastic about getting out to an audience as soon as possible.
We've had a great time working on this and have a fantastic cast backing it, including our longtime collaborating partners in the acting fields (who coincidentally hadn't previously worked together) John Redlinger and Chase Arrington, and are really proud of what we've done thus far. Tons of fun.
The synopsis/project information is as follows:
[color="#708090"][size="2"]
[indent]
'A Long Walk In Mexico' is Atomic Productions' upcoming action-comedy project, due for release this fall. When three young Americans venture to Cabo for the summer, their recklessness and carefree attitudes about their surroundings bestow upon them more of the 'Mexican experience' than they bargained for.
Directed by Ben & Andrew Adams - Executive Producer Cole Dabney - Production Assistance Paulina Bryant
Starring - John Redlinger - Chase Arrington - Parker Christian - with Fernando Gaviria
The music featured in this trailer is the track 'Money Up' by Shod B.'s mixtape 'No Interruptions'. Twitter: @shodb[/indent]
[/size][/color]
[img]
http://a5.sphotos.ak.fbcdn.net/hphotos-ak-ash4/s720x720/297538_181117021960223_113265292078730_448051_3756098_n.jpg[/img]
Anywho, thought I'd clue the ol' Hitfilm Community in on the happenings of Atomic for the time being. If this intrigues you, or you're willing to help us- pass on the link and help us get the viewership and interest in 'A Long Walk In Mexico' out there, too!
Comments
This discussion has been closed.