Atomic Productions - Summer Project Releases 2012
Hey all,
I used to write these up on FXhome- and though by-and-large I'm now unable to talk about the bulk of filmmaking work we do at
Atomic Productions
because it's largely commercial/promotional or longer-term-goal-oriented, I wanted to share info on three forthcoming releases from our little company, and some things we've been doing.
[center][size="5"]Atomic Productions - Summer Project Releases 2012[/size][/center]
[center]

Check out our current work on it by visiting the Dark Knight Binges Fan Page, and donate to it by watching the video below and clicking the linked annotation:


Please, if you want or feel compelled, do donate to the project- and let us know your thoughts. It's something we'll be intermittently working on (and are super grateful we've already received an awesome $605 for!) throughout June and July, with a release following the premiere of The Dark Knight Rises

[size="6"][center]July - Hell Or High Water[/center][/size]
A long-gestating crime drama of ours, Hell Or High Water has been a difficult project to pin down and complete partly because of the simplicity of it's situation: It's largely a dramatic short that's a conversation between two men- one young, one old- about the nature of 'right and wrong' in one room. While it's new territory for us- and about 10 minutes in length- it's also been very difficult to refine to a point of completion, and the words of it's narrative are long and strongly-convicted on the part of the older character- so much so that the second actor we had for the role walked off the production the day before the shoot after concocting a hypocritical backstory for himself around the script. (Damn actors, really.)
That being said, its found its footing, and the short crime drama is something we'll be wrapping up in post in July, for a mid-August release.

[size="6"][center]August - 8th & Rose[/center][/size]
8th & Rose is a period-set silent (or, more-specifically, 'conveyed without words') film I started writing at the beckoning of an actress we used in our Drive parody, Katie Folger. Katie has a very 'January Jones/Mad Men' look to her, and we'd been talking about doing a 'period piece' for a few months this year. Rummaging through a few ideas, I landed on something I really liked- a sort of philosophical-journeying love story set in more of a 'timeless' atmosphere than the 1960s or anything specific- and I've finally completed writing it.
The script is complete and will run somewhere between 5-10 minutes, with little to no dialogue- all conveyed visually and through the nuances of the two actors- and will focus on the draw and distance between the two in sort of a 'love story' way. (Or at least as close as we'll probably ever come to doing one.) I've had our music aficionado Chase work off of my general pitch and read-out of the story, and we've come up with a pretty sweet concept for the score to the short already, which is cool. It dissipates into just random experimentation about half-way through, but check it out if you'd like on [url= here
We've cast the leads- Katie being one of them, and the other an actor named Will Harris I was impressed with after meeting a few weeks ago, who we used in our over-the-top satire foray for TFM, 'Frat Cops', embedded below (strong language, NSFW generally):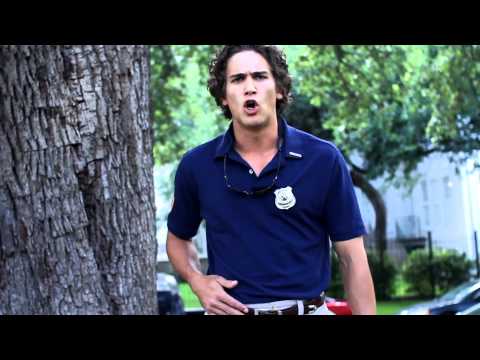 Though that's quite different in theme, tone, and genre than what we'll be doing here, it was interesting to throw an actor into such a destructive, hate-able role and see how they react.
This project we'll be working on following the other two, likely in production in August with completion and release later within the same month, and it's something we've been excited to develop the past few weeks.
In addition to these three, which we've more-or-less considered our 'solid three' for release and completion this summer- we're also doing a few 48-hour competitions, and working on some creative developments in Los Angeles. All of this is in addition to our ongoing work one private commercial and promotional projects, which we'll release if/when we're able to- and my own personal job at
TFM
.
Anyway, just wanted to clue you all into what we're doing and have been doing- and if you have the inclination or opportunity, please do check out our fan page on Facebook and "like" us if you're willing at the link below! Thanks!
[center]
[size="5"]Atomic Productions Facebook Fan Page[/size]
[/center]
Comments