Production Thread: The Creek, OUT NOW
[size="7"]The Creek, Out Now![/size]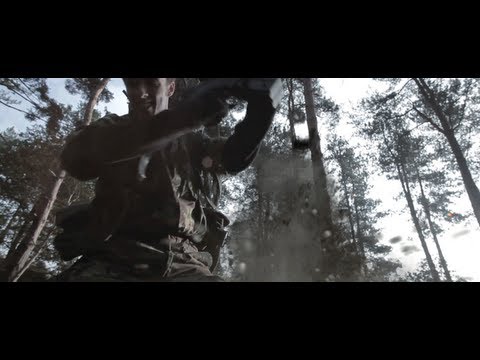 [img]http://farm8.staticflickr.com/7002/6420716359_1d74e037b7_z.jpg[/img]
Shot 1
by
StrikeEm
, on Flickr
I wouldn't normally create a production thread for short shorts, but this will be in post production until Christmas or the New year.
The Creek
(or S***s Creek, as I've been calling it in post) is the final action short I'll be making for a while; this was created as a project with a few Uni friends who traveled back my way to catch up and film some balls out action, to see how things worked out before we get together to make longer project in summer 2012.
[img]http://farm7.staticflickr.com/6114/6420719751_36c3e4056a_z.jpg[/img]
Shot 4
by
StrikeEm
, on Flickr
[size="4"]The 'Story'[/size]
Three soldiers, Bates, Larson and Recard, are pinned down after being ambushed by their enemy; they need air support and the only radio they have is laying on the floor 30 feet in front of them. The men must work together to retrieve the radio and hope they can get home safely.
[img]http://farm8.staticflickr.com/7030/6420717617_ac739be26f_z.jpg[/img]
Shot 2
by
StrikeEm
, on Flickr
[size="4"]Production[/size]
Filmed November 17th, we arrived on location and set up for 9:30am; perfect conditions for the feeling of the short, overcast even lighting, we set up some improvised cover from broken tree trunks and general junk that had been left around the area. We filmed the short in a chronological order, Robbie was the writer for this short so he was calling the shots for the most part, my job was strictly camera and advice on the best way to film the action. Robbie had never filmed an action film before, but approached it with a good deal of knowledge (the sort only 2 years on a film course with several action film junkies can offer).
[img]http://farm7.staticflickr.com/6212/6420715519_f0d7a62471_m.jpg[/img]
IMG_4321
by
StrikeEm
, on Flickr
The shoot lasted until 4pm (only just beat the sun) and we tried to get all our intended shots, but as with all shoots we had to do more rushing about towards the end of the day thanks to being 4 man crew rather than the intended 6 man crew. We were all quite happy with the material we had when it came to reviewing the footage, and exhausted from luging around lots of gear and props over a 3 mile radius.
[img]http://farm8.staticflickr.com/7170/6420718305_76ddf9485f_z.jpg[/img]
Shot 3
by
StrikeEm
, on Flickr
[size="4"]Post Production[/size]
I have been left in charge of all the editing duties for this production as I'm the most experienced compositor in our group, which is a lot of work to be left with; after finishing the initial rough cut of the short, I find i have 45+ effect shots to edit, which feels daunting to me in my current mindset.
I must admit to feeling rusty at compositing large amounts of muzzle flashes, shots that would have taken me about 2 hours in the past are taking me 8 hours down to a combination of slow down on my editing system and some reluctance to be editing everything. I'm the type of person who adds as many little details to a single gunshot as I aim for the effect to go unnoticed, even casual viewers can pick up on minimal composites, they can see something isn't right, but when all the little details are there it's more difficult to pick it out, I simply make the composites more difficult for myself because of this.
Current completion:
approx. 70%
[size="4"]Equipment[/size]
On shoot
A cam: 5D mark II
B cam: 550D
Rode Stereo VideoMic
Indisystem Slider
Stedicam Merlin
Shoulder Support
50mm lens
20mm canon USM lens
70 - 300mm Tamron lens
Post
Final Cut Pro 7
Adobe After Effects
Apple Colour
Check for more updates coming soon, more images from the production available through my facebook page - see signature.
Comments